As I walk into
Shogun
the heavy smell of fried rice and soy sauce washes over me while waitresses glide by in swishing kimonos. The smells and sounds bring back a wave of memories. Birthdays, awards, proms – I have celebrated many occasions here with my family and friends over steaming plates of sautéed vegetables and steak and shrimp dinners. Along with the delicious food another constant is Pang – one of Shogun's
T

eppanyaki
chefs who prepares flaming Japanese meals on an iron griddle before amazed patrons. My first boyfriend, childhood friends, an awkward ring-dance date and of course family – he has met them all and seen us grow up behind steam clouds and plates piled-high with zucchini and soy beans.
Pang prepares vegetables and scallops - yum!
But at Shogun my memories go beyond food. For as long as I can remember there has been a tall glass case just beyond the entrance of the restaurant and on the way to the bathroom that is filled with inexpensive trinkets and shiny earrings laid on embroidered pouches. As children, my sister Lindsay and I would excuse ourselves to the bathroom during dinner just to look at the treasures behind the sliding glass door and talk about which ones we wished we had. My Dad had no qualms about sending us to the corner in public for misbehaving and sometimes, after yet another time-out and sometimes just because, Pang would slip away from our table after preparing the meal and take a pair of earrings or chopsticks from the case by the restrooms for Lindsay and me. Gifts or not, time-outs or not, we always looked forward to eating out at Shogun and seeing Pang.
While waiting for our table to clear and during our meals we would catch up with Pang. From middle school to high school and finally college and beyond, Pang followed all of our studies and paths in life and always had an anecdote to share with us relating to our lives. For me it became art history when I majored in it at
Mary Washington
, along with French. On a college break a few years back, my family reconvened at Shogun as usual to catch up and celebrate another semester behind us. After the meal, Pang asked us to wait and came back a few minutes later with an extra-large, framed print of Renoir's Dance at the Moulin de la Galette. There used to be a Big Lots next to Shogun and there is still a CHKD thrift shop where Pang said he would drop in before work and scoop up deals like this print. Always a sucker for a deal and beautiful frames and prints I oohed and aahed over it along with the rest of the family. And then he gave it to me, just like that.
Last year we spent Dad's birthday in Vegas - this year we decided to up our MSG intake and head to Shogun! Delicious!
After being home for the past three months, we finally made our annual family visit last week for my Dad's birthday. I cannot remember the last time Lindsay and I looked into the tall glass case at the end of the hallway and we no longer get sent to the corner for speaking out of turn. As we put on our coats and prepared to leave this last time, Pang asked me if I was still interested in art history since it has been nearly 4 years since I graduated. 'Of course!' I replied and then he darted to the back of the restaurant, reappearing a few moments later with two large, framed prints and an art history
textbook
. We talked about the prints and where they came from and then he offered me the book – some things never change!
Visiting Shogun, like spending quality time with sweet friends and family as I have done these past three months, feels like coming home. 'Is it hard to come back?' people ask me when they learn I live in Bamako, Mali, a city over
4500 miles
away from
Virginia Beach
as the crow flies. While I know people struggle and triumph in different ways when they return from the
Peace Corps
or come home after a long time away, I am blessed that I will soon be returning to Mali and so I know what the (immediate!) future holds. And anyways, with dear friends, good food and a supportive family around the world, wherever I am – home is where you are.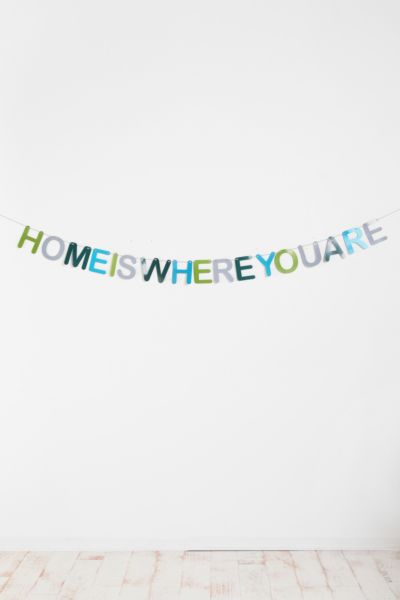 I found this banner (and bought it!) in Phoenix