With its 37th Independence Day only a few days away (July 6th), Comoros, which means '
moon
' in
Arabic
, is the perfect country to learn about this week on my
Africa from A-Z
series. While I knew only a little about
Chad
, I honestly didn't even know Comoros was a country :( And, to clarify for myself and others, these posts are really to help me gain an increased awareness about countries in Africa; they aren't meant to be exhaustive but rather to whet the taste buds!
I did some sleuthing this weekend and learned more about this former French colony nestled in the Indian Ocean above Madagascar. Here are some of the trifles and treasures I learned:
Sources
like these
are tricky because they don't appear credible but the stories on them about country origins are fascinating. If you're looking for Comoros tschotskes on the net - look no further: you can buy
fish stamps
from the Comoros and here's a
board game
found on Esty or perhaps you'd prefer a
map pendant
? Want to read about
fisheries in Comoros
? For all you foodies out there - this
Comoros dish
looks delicious. A
couple
of
sources
claim that Comoros is the second-largest exporter of vanilla (after
Madagascar
) in the world. Yum!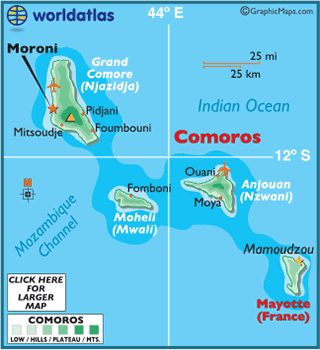 Same as left.
Source. Hard to find much information on this mosque.
Had you heard of Comoros? Did you know Madagascar was the number one producer of vanilla??
And a shameless plug: One of the pictures that I took while working with
USAID/PHARE
, and that I later submitted to
IREX
's 'Make a Better World' photo contest, made
honorable mention
in their photo contest. I'm so thankful and honored to be a part of such a neat online exhibit - the photos they chose as winners are truly stunning.