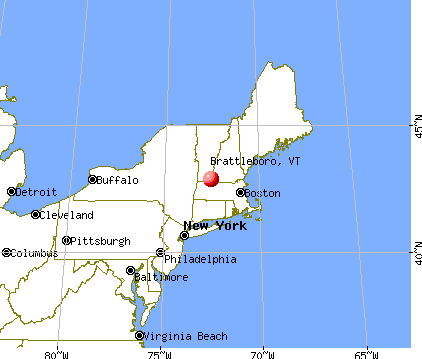 I like how this map shows the most important cities. Go VB!
After driving three hours northeast of
Boston
and carefully navigating small, country towns and gas stations equipped with bathrooms of questionable quality, Suzy and I made it to
Brattleboro, Vermont
. Tucked away in a mountainside with a main street of cute shops, the city bustles with weekend visitors and seasoned locals shopping and grabbing a bite to eat at one of the many restaurants in town.
We peek into the local farmer's market and I find myself drooling over tables laden with homemade savory & sweet treats. Rosy cheeked women with kind eyes and rough, textured hair and a unique piece or two of silver jewelry stand behind tables and invite us to try local breads and jams, syrup tapped from Vermont maple trees and to hold for ourselves hand-knit hats made from local sheep's wool. Places like this make me want to sell my computer (or yours) and move to a farm and wear hand-knit sweaters while making lavender infused goat-milk lotion and soap. One day.
Orientation began Saturday night with a group dinner for myself and the rest of my cohort (the 17 other folks who will complete their
Master of Arts in International Education low-residency
style along with me). Dinner was a delight and our immediate sharing of experiences showed me what a breadth of diversity our group brings to the table. With backgrounds spanning the globe and languages to match them, I know I have a lot to learn from my fellow students and I also look forward to sharing, and learning from, my experiences in Mali along the way.
We will spend two weeks together this January/February exploring the field of international education while laying the foundations for the courses to follow this Spring. Our first two classes are Foundations of Intercultural Service, Leadership & Management and Practitioner's Inquiry. I will also take a workshop this weekend entitled 'Data-driven Decision-Making' which looks to be quite interesting. After meeting with my adviser I feel more confident about undertaking this degree and reassured that it is something that will help me along my path (be it on a goat farm in rural Vermont or in a study abroad program at a university or otherwise!
One of our professors asked us what made gemstones special. "Their rarity?" I ventured. "Their colors?" said another. "Yes and no," he replied. "I believe it is their multi-faceted nature that makes them special. Their ability to refract light and shine in different ways in different settings." He went on to note that our unique abilities and experiences are what make us distinct, too and if we can harness our ability to communicate those abilities and experiences our time with SIT will be that much richer. I appreciate the analogy and look forward to all the refracting that will be going on!
Add caption
Who knew International Education could look this good?
Here are some of the hot spots around town I've heard are must-dos (I've already gotten to do some!):
Have you ever been to Brattleboro? Do you have any Vermont favorites?